ROTARY LOBE PUMP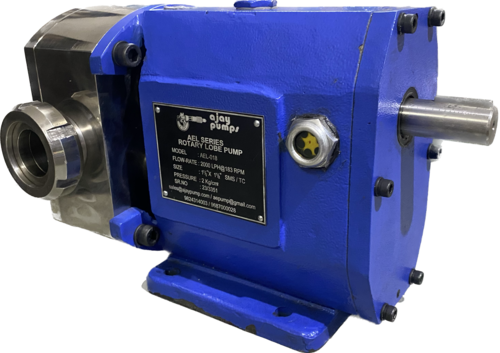 ROTARY LOBE PUMP
Price And Quantity
Product Specifications
Product Description
AJAY Make Tri Lobe Series Lobe Pumps are Best in Quality  with Compact Design and easy Service and comes in  Sizes from 1" to 4", 
The Advantages of Rotary Lobe Pumps:
Since the Pumps lobe do not come into contact with each other; Lobe Pumps can move solids suspended in slurries (such as cherries or olives in food processing application without product damage. the gentle pump action further minimises product degradation.
May be easily cleaned using either clean-in-place or steam in place methods, making them ideal in for hygienic processing application. Highly efficient for pumping very viscous liquids.
The fluid flow can be increased or decreased by controlling the drive speed.
If wetted rotary lobe pumps are also self-priming and can run dry for long periods of time.
Generally easy to Maintain.
Application:
Pulp & Paper Industry, Soap, Paint, Rubber, Pharmaceuticals, Alcohol, Apple Puree, Apricots, Baby Food, Batter, Biscuit Cream, Butter Fat, Caramel, Cheese Curd, Cherries, Chocolate, Chutney, Corn Syrup, Cottage Cheese, Cream, Custard, Fruid Pulp, Glycerine, Honey, Iodine Ointment, Jams, Jelly, Ketchup, Liquid Sugar, Mayonnaise, Molasses, Pastes, Peanut Btter, Pizza Toppings, Soap, Solvents, Sorbitol Syrup, Soya Sauce, Tomato Ketchup, Tomato Paste, Vaseline Etc